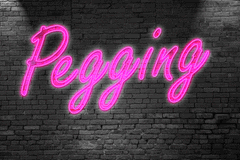 When it comes to pegging, preparation ensures the most intense enjoyment for you and your partner. Jumping straight in may sound sexy, but isn't always a great idea due to the delicacy of the anal region. By becoming an all-knowing oracle of your partner's anatomy, you can ensure this tantalising orifice is thoroughly satisfied. Some sensuous ways to get him ready include intimate communication, training with toys of a variety of sizes, plenty of lube and, of course, knowing the most stimulating sex positions. Read on to discover the best ones we've had the pleasure of trying.
Female Driver
It's about time we put an end to those silly old myths about us ladies not knowing how to handle being in the driving seat. If you're ready to show your man who's in control while having full access to his erogenous zones, you need to try the female driver. This take on the pile driver sex position sees your guy lie on his back with his legs by his ears. You kneel or stand and drive that dildo straight down.
This allows you to easily reach his prostate as well as being able to see the satisfaction written all over his face. In this position, you can give him double the excitement by manually stimulating his manhood. He'll be writhing in ecstasy while you enjoy the psychological stimulation of role reversal.
The Champagne Room
This demure position puts him in control while giving you ample opportunity to make use of toys on yourself. Strap up and perch on the edge of the bed or sofa. He faces away from you and eases himself down. Allow him to guide your counterfeit cock in at his own pace and sit back while he enjoys the ride.
Butt plugs are great accompaniments when you're pegging. Many women find the sensation of the strap-on rubbing against their vulva and clit arousing, and a little bit of anal stimulation just sends you over the edge.
Modified Doggie Style
Often, clichés are clichés for a reason. When pleasing your man with some backdoor action, modified doggy is a tried and tested winner. Have him get down onto his knees and then rest his arms on the bed as if he were about to do a press-up. This presents a perfect opportunity for some role-playing or light domination. You could push his head down onto the bed, run your nails down his back or indulge in a cheeky bit of spanking.
When he's begging for you to enter him, lube up your makeshift manhood and hold it at the base and tip to guide it in. Start off slowly and gradually build a rhythm, paying attention to how he responds. It's the ideal way to thank him for all the thrusting he's done for you!
Reverse Cowboy
We've all heard of reverse cowgirl, but what about reverse cowboy? In this switching of roles, you'll lie down on the bed with your strap on standing to attention. When you're all lubed up, he faces away from you and squats over you to take as little or as much as he wants
In this position, he can self-stimulate or use toys on you while you lie back and call the shots. He'll love being bossed about by you, and you'll relish in the sensual power you hold over him.
The Hook
This one takes an old favourite of men and women and flips the script. Kneel in front of your partner with your strap-on lubed up and get him to lie with his butt just in front of the dildo. Hook his legs over your shoulders and keep your back straight while holding his ankles by your ears. You can prop a cushion underneath him to raise his rear up and give you direct access to his prostate. He'll also be close enough for you to stimulate each other with toys, feathers or fingers.
He'll love the view from this position, as he looks up at your body and can even reach for and fondle your breasts. You're in charge of the pace for this one, so be sure to communicate and respond to his requests to go slower or faster.
Begin your own anal adventure...