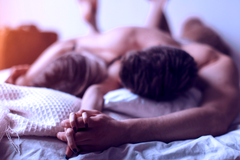 Once a taboo topic, prostate massage and sexual acts like pegging and anal sex are at the forefront of sexual conversation among professionals and the media. While some men enjoy the act of stimulating their own prostate using toys or their own hands, many will attest to the fact that prostate massage is best enjoyed when it's performed with a partner.

If you're a little uncomfortable with the idea, it's crucial to conduct some research and make sure you have a good understanding of how to safely perform prostate massage on your partner. And keep reading to learn nine convincing reasons why you should give your partner a prostate massage.
1. It Helps to Prevent Erectile Dysfunction
If your partner sometimes struggles with getting (or keeping) it up, you can help him to prevent long-term erectile dysfunction or impotence by offering regular, or even occasional, prostate massage. Massaging the prostate is actually one of the original methods doctors prescribed to men for ED, long before modern medicine introduced treatment options such as medications and implants.
2. It Might Reduce the Risk of Prostate Cancer and Prostatitis
Prostate massage helps the prostate clear out any built-up prostatic fluid, which is thought to possibly lead to prostate cancer and increases the chances of men developing prostatitis — a painful inflammation of the prostate that can lead to urinary problems and painful ejaculation.
3. It Can Give Him Longer, Stronger Erections
Many men who've received prostate massage have reported experiencing erections that are longer, thicker and harder. That means more pleasure for him and more pleasure for you during intercourse.
4. Orgasms Resulting from Prostate Massage Are More Intense
The p-spot, which is known as the male version of the g-spot, is located on the prostate, which is about one to two inches inside the anal cavity on the interior wall. Many men describe the prostate orgasm, also known as prostate milking, as being far better than a penile orgasm. The prostate orgasm, for many men, is a whole-body experience.
5. It Adds An Element of Adventure to Your Sex Life
Many couples experience a rut in their sex lives. If you're looking for a break from your regular routine, prostate massage may be exactly what you're looking for. Although it was once considered risque for straight couples to engage in anal play, most people are coming around to the fact that pleasure can, and should, be obtained in any way they're comfortable with. For a lot of couples, that means prostate milking, pegging and other forms of anal play.
6. There Are Several Ways to Go About It
Pleasuring the prostate can be done in a few ways. While the most common is to access the prostate through the anal cavity, using either fingers or a sex toy to stimulate it, couples who are inexperienced can choose to engage in external prostate massage. The prostate can be easily accessed via the perineum, which is the small fleshy patch that sits between the testicles and the anus. To perform an external prostate massage, simply apply firm pressure to the area and rub in a circular motion.
7. There Are Plenty of Sex Toys on the Market That Can Help You Give Your Partner a Next-Level Prostate Orgasm
Some couples prefer bringing toys into the bedroom, and when you're introducing prostate play to your sex routine, a toy can be one of the best ways to get into it. Depending on your level of comfort, you may want to choose a small prostate massager to insert into your partner's anus manually, or you can opt for something larger such as a strap-on and give pegging a try, which is the act of using a strap-on to perform anal sex on your partner.
8. It Gives You the Opportunity to Enjoy Some Role Reversal
If you're usually used to your partner penetrating you, prostate massage gives you the chance to turn things around, literally. Whether you're using your fingers, a prostate massager or a strap-on dildo, prostate massage and anal play allow you to swap positions with your partner and create a new type of experience for both of you, emotionally and physically.
9. It Can Help You and Your Partner Develop a Whole New Level of Trust
Engaging in prostate massage and anal play as a couple requires a high level of trust and communication. It's important that you and your partner are comfortable communicating your preferences and comfort levels with each other without feeling embarrassed, and it's also crucial that you can discuss important topics such as preparation and hygiene before you get down and dirty.
If you and your partner are ready to give prostate massage a try, make sure that you practice good hygiene and safe sex. For more anal play tips, check out our Anal Academy.