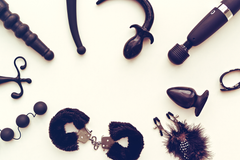 Chances are you've got a few personal toys in your bedside drawer. In fact, it's estimated that approximately half of British adults own a sex toy. These intimate aids can really dial up the intensity when it comes to getting dirty and getting off.

There's a good possibility you don't know all the ins and outs of safe play or the proper way to clean and protect the integrity of your erotic helpers. 
1. Know What Your Toy is Made Out Of!
Sex toys come in all shapes and sizes, just like people! They can be divided into two, different categories: nonporous and porous.
Nonporous sex toys can be safely shared with others because their surfaces are made from materials impervious to bacteria. These nonporous toys are commonly made from stainless steel, silicone and Pyrex.
Porous intimate aids require a bit more care when sharing the joy with others. Experts suggest using condoms when inserting toys inside more than one person. Porous toys are frequently made from nylon, soft vinyl, acrylic, neoprene, leather, cyberskin, elastomer, jelly rubber and vinyl.
Caring for porous and nonporous toys can be confusing. Before you throw out the wrapping and get buzzing, make sure you look on the box to find out what your plaything is made of.
2. Keep them Clean
Most toys come with a dust bag for easy storage. Make sure you keep it because flinging your vibrator into your bedside drawer is asking for trouble.
We're not the only creatures who love sex toys. Bacteria and other germs are huge fans too. Also, nobody wants a dildo inside them that's been among popcorn kernels, tissues and your medication or whatever else you keep in your bedside table!
3. Wash It Before You Use It
No, this isn't an obsessive or compulsive measure to take. Washing your toys before you use them is the only way to be 100 percent sure that your anal plug is clean and ready to go. Otherwise, you're taking a risk.
4. How to Clean Porous Toys
Porous toys are frequently made from hard plastic, leather or vinyl and can be super sensitive to extreme temperature. The materials these are made from also mean these pleasure playthings can be prone to warp. No dishwashing these titillating toys. There's the exception of nylon toys, which may be machine washable.
5. How to Clean Nonporous Toys
Different materials require different methods of sanitization. Remember, you were supposed to look on the box to find out what your new toy is made of? This is why.
Stainless steel: These types of toys can be cleaned by boiling them for 10 minutes or washing them in the dishwasher.
Glass: Glass toys are fragile and can warp if left exposed to excessive temperatures. Use warm water and mild soap, then rinse.
Silicone: Another dishwasher friendly material or wash with soap and water.
Pyrex: Pyrex is reinforced glass and can be boiled or washed in the dishwasher.
Here at Bathmate we recommend using a specialized sex toy cleaner to ensure that all your toys are kept squeaky clean. 
6. Watch for Battery Problems
Electric toys powered by batteries provide powerful vibes when it comes to lighting passion on fire. However, you've got to be careful not to submerge these playthings. Clean them using a soapy washcloth and dry with a clean towel.
7. Check the Status of Waterproof Toys
Wait a minute before you get into the shower with your waterproof plaything. You need to check the health of your toy before diving in. Make certain the O-ring and rubber plugs are safely covering the battery chamber. If it's damaged or non-existent, your toy isn't waterproof anymore.
8. Choose Mild Soap
The soap you use to clean your sex toys should be unscented and mild. Avoid heavily perfumed and caustic chemicals because they might damage your dildos and may possibly harm you.
A word of caution on jelly-made toys: Use condoms when in congress with these tools because they may contain chemical compounds called phthalates that might be dangerous to people.
9. Use the Right Lubrication
Silicone toys should be lubricated with water-based lubes. Silicone-based lubricants can mar the integrity of the toy. Make sure to wash your toys after every use. Lubes can cause rust and bacterial build-up.
10. Pay Attention to Changes in Your Toys
If the motor on your vibrator has gone up a decibel or a bead is wobbly on your anal beads, it may be time to throw those toys a way and invest in a new plaything to satisfy your appetites. Ignoring warning signs may cause discomfort or worse.
11. Try Something New
There are so many different types of erotic playthings and this rich assortment of potential pleasures can lead you down surprising paths that can revolutionize your sex life. Don't be afraid to bring new toys into your bed!