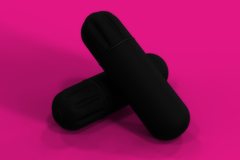 It's easy for guys to get intimidated by the thought of introducing sex toys into rumpy-pumpy sessions with their missus. Some men are even offended at the suggestion; as if their love rod isn't enough to satisfy their partner. Before you get caught up in a haze of jealousy aimed at an inanimate object, consider the notion that it might actually enhance her pleasure as well as your performance. Better sex is about mixing it up and trying new things so you never get stuck in a rut. 
We've all been at the stage of a relationship where the honeymoon phase is over. You still fancy the arse off each other, but you get stuck in a routine of the same couple of positions in the same old sequence. Bringing adult toys into the bedroom can be the ideal way to spice things up.
1. Improve Communication
Believe it or not, great sex isn't about how big your schlong is or how great your girlfriend looks in lingerie — although that helps. It's primarily about openness and confidence. If you feel comfortable together, the sky is the limit. Sex toys can be a great way to initiate a discussion about what turns you both on. It's also an opportunity to make you look super considerate. If you love getting head, you can buy a bullet vibrator to use on her while she gets you off. Now that's what we call a win-win situation.
2. Last For Longer
Not that we're saying you need help in this department, but some nights you want to go at it for ages and ages, right? If your lady is having a night where she's insatiable, bringing a vibrator into the bedroom may be the ideal way to make it last all night.
Switching positions and alternating between vaginal and oral sex are two tactics you can use to take a pause when you feel you're about to cum. But with a silicone assistant, you can continue filling her up while you take a pit-stop and carry on enjoying the show.
3. You Never Know What You Might Get in Return
If your girlfriend has shown an interest in bringing sex toys into the bedroom and you're not sure about it, offer a compromise. If there's something you've always wanted to try — for example, a bit of roleplaying, seeing her dressed up in a sexy outfit or doing it in the garden — you could use it as a bargaining chip. Plus, what is more sexually satisfying than seeing a woman writhe and moan with pleasure? Remember, you can use that toy from angles she could only dream of on her own — you're still the driving force for her getting her rocks off.
4. Aim For Multiple Orgasms
We don't doubt for one second that you provide your lady with the big O on the regs. You've probably managed to make her cum several times during sex, right? With a sex toy, you can penetrate her while stimulating her clit with the vibrator.
Doggy style is an awesome position for this — if it turns you on, you can even watch her rub herself with it as your ram your meat deep inside her. For most women, this level of pleasure leads to explosive, multiple orgasms that will have her squeezing you between her thighs as you've never felt before.
5. Hop on Board the Anal Train
Lots of people are interested in trying anal but too shy to mention it. When it comes to sex, throw your bashfulness out the window. If you're comfortable enough to put your willy in her, there are very few subjects you should shy away from. The region around the anus is full of nerve endings and stimulating these can be intensely pleasurable.
If you've ever given her bumhole a little tickle and got a good response, you could ask her if she'd like to try a small vibe down there. Start small, using it during vaginal sex and wait for the fireworks. If she really loves it, you can graduate up to bigger toys until, voila, she's ready to take your dong.
Bear in mind, a chef isn't offended by using a blender or sous vide machine, they simply enhance the cooking experience. Think about sex toys the same way and bask in all the pleasure they bring.