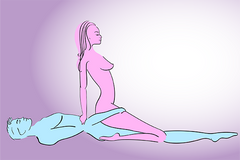 Butt plugs are the secret to amazing anal play. With the right sex positions in mind, you can enjoy mind-blowing orgasms. The best thing about butt plugs is that they are appropriate for all genders.
Even though most people use butt plugs to ease their way into anal play, they may be great for intensifying vaginal intercourse as well. If you are on the receiving end, a butt plug may make you feel tighter. It is much easier for your partner to stimulate your G spot. In the case of penis-vagina intercourse, a butt plug can increase pleasure for both parties. Invest in a vibrating butt plug if you want to make things even more interesting.
Contrary to what most people think, butt plugs are not only meant for doggy style. There are plenty of sex positions that you may enjoy with your butt plug.
Butt Plug Sex Positions
1. Missionary
Missionary is comfortable, intimate, and great if you are new to butt plugs. You can hold on to your partner's chest and help them control the thrusts. With this position, the sensations of your butt plug are mild.
2. The Low Rider
With this position, you lie back and let your partner take control. The position is a mix of doggy and spooning. If giving up control is not your style, you can use your foot to direct the speed and intensity. Like with missionary, the sensations are mild.
3. Clit and Plug
If you're a beginner, you may be anxious about going all in. If you aren't sure about using a butt plug yet, try some clit play along with anal penetration. You may have your partner use a toy or go exploring with your fingers. A clit orgasm is a great way to ease your way into butt play.
4. Bodyguard
This may not be the most intimate position, but it works. With your butt plug in place, have your partner stand behind you (like a bodyguard) and take you from behind. They may wrap their hands around you or play with other parts for a more intimate feel.
5. Oral Sex
Butt plugs can take oral sex to the next level; it doesn't matter whether you like to give or receive. If you're receiving, the sensations of a butt plug can make things much better. It intensifies your orgasms and introduces a new dimension of pleasure. If you like giving, the sight and sounds of your partner's pleasure may be enough to get you off.
6. Power Play
Do you enjoy power play? Butt plugs may be some of the most interesting toys. Power play and anal play are both great. Together, they can be a recipe for incredible orgasms.
If you are a submissive, negotiate with your partner and ensure that you both understand your limits. With a butt plug, you and your partner can have all sorts of fun. It can stimulate both the mind and the body.
7. The Posterior Plank
If safety is a priority in the bedroom, the posterior plank may be one of your best choices. It's simple, fun, and perfect for lazy lovers. Lie on your stomach and have your partner get on a plank position over you. They can go to work while whispering sweet nothings in your ears. Every thrust will push the butt plug deeper in.
8. Doggy
Everyone loves doggy style, and to be honest, it's the Holy Grail of sex. It's kinky, it's fun, and it gives you a lot of room for improvising. Let your partner know when you want them to change the speed or depth. Vibrating butt plugs are great for this position. Your partner can reach around and finger your clit to help you stay horny.
If you're on the receiving end, every thrust will bump against the plug, forcing it deeper into your body and pushing you closer to the edge. If you're humping, you will need to keep the plug in place. Even though gravity will be working against you, you will be building up to intense orgasms.
9. Reverse Cowgirl
If you're a girl who likes to be in control, reverse cowgirl may be one of your favorite positions. It's great for butt plug play. Your partner will enjoy the thumping feel as the plug bumps on their pelvis, and you'll love the extra pressure. In this position, both of you can wear a butt plug. When you're done, lay down and enjoy the sensations.
Whether you're a man or a woman, there's a lot you can do with butt plugs. Start experimenting today and take your orgasms from okay to great.