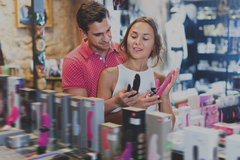 What do you think about sex toys? I mean, what do you really think? Do they make you blush and giggle? Have you always wondered about what it's like to use a sex toy but have been too shy to try one? Has a previous partner rejected them, and now you're embarrassed to bring up the topic in a new relationship? Many people have many different impressions of sex toys, which have been around for as long as people have been having sex. But thankfully, sex toys are more commonly used than ever before, and couples who try different ways to have sex, including using sex toys (which are sometimes coyfully referred to as marital aids) report higher levels of sexual satisfaction than those who stick with the same old routines.
Sex toys can open up so many wonderful things in a relationship, from increased sexual satisfaction to better everyday communication and trust. If you think sex toys might be just what your relationship needs, we are here to gleefully encourage you to follow that desire. However, every relationship is different. There's no one fool-proof way to seamlessly integrate regular sex toy use into your bedroom fun. But there are some tried and true tricks that will make the journey to sexual satisfaction easier and more satisfying for everyone in the relationship.
There's No Wrong Reason to Introduce Sex Toys Into Your Relationship
It doesn't only have to be because you feel there is a problem that needs to be solved (though that's not a bad reason, either!) Before even discussing it with your partner, give yourself the space to explore what it is about sex toys that you are interested in. Are you hoping to achieve more or stronger orgasms? Do you want something fun for foreplay? Is there one specific type of toy-based fantasy you've always dreamed of trying? You don't need to have perfect answers to every question you ask yourself about sex toys, but it's helpful to at least have a general acknowledgement of your own personal preferences and desires before talking to your partner about introducing sex toys into your relationship.
Do Your Research
Most of the time you don't need an advanced degree in mechanical engineering in order to operate a sex toy. Most have been streamlined into user-friendly tools with easy-to-operate parts, but it's still good to do a little groundwork on how to use them safely, keep them clean, which work better with different body types and physical abilities, and what brands have the best reviews. The internet is an amazing way to quickly and anonymously find out as much information as you need about sex toys, but it's also not a bad idea to see if there is a local sex shop where you can talk to an expert face to face. While it may be a little intimidating to discuss sex with a near-perfect stranger, those who work in the sex industry are generally thrilled to help other people discover the joy of sex positivity and will answer your questions without judgment.
Shop Around
There are more toys on the market than there are fish in the sea, and it can sometimes seem overwhelming and intimidating to wade through so many different options. But most sex toys belong to one of a handful of categories - penetrative, vibrating, costumes, anal play and accessories. Once you figure out what type of toy you're looking for, it's easier to nail down the specific size, brand and colour you actually need.

Shop around to see what speaks to you. Having a few cute options in mind when discussing the subject with your significant other can make the prospect seem more real and exciting.
Communicate With an Open Mind
As much fun as it might be to spring a 12-inch dildo on your unsuspecting partner mid-coitus just to see their reaction, you might have an easier time actually getting to use your toy if you approach your partner during a neutral time. When do you each communicate best? First thing in the morning over breakfast and coffee? Through text messages sent throughout the day? On dates? Plan to bring up the topic of introducing sex toys whenever you're both feeling happy and ideally well-fed and well-rested.
Then, don't be shy to plainly talk about what's on your mind. Let your partner know that you're interested in using toys together, and ask them how they feel. Describe what you're looking forward to, and let them see some of the choices you've pre-shopped for. It might help to sit close to your partner or hold their hand to help create a sense of intimacy and trust.
Once you've broken the ice, take the time to actively listen to what your partner has to say. It's possible they'll be immediately responsive and ready to go, but more likely they'll have some hesitations, questions or possibly misconceptions, which you can discuss together. Don't be shy to put a pin on any issues that you can't resolve in a single conversation and pick them up again a few days later. Even if it takes some time, open, trusting communication is the absolute best thing you can do to successfully introduce sex toys into your relationship.
Start Small
If you have never, ever used sex toys before, you should probably make sure you can walk before you try to run. There are some fool-proof, orgasm-guaranteed toys out there that make a great, pleasurable introduction to the joys of marital aids. Many people with clitorises respond very well to bullet-sized vibrators, for example, which are easy to use and have the added value of being of a discreet shape and size.
Other easy-to-use options include satin blindfolds, feather ticklers and massage oils, which are user-friendly and less intimidating than something that needs batteries, for example. They can be easily tucked away in a drawer and pulled out whenever you feel inspired to try them.
Or Not…
Sometimes the best way to try something new is to jump off the deep end and get wet, so to speak. If you and your partner are immediately on the same page and super excited about shopping for toys, indulge that excitement! Want to use a cock ring while dressed as a French maid? Do you absolutely need to be handcuffed at the wrists and ankles while your partner tries out a long string of anal beads? Whatever your particular sex toy-related fantasy, it's okay to give yourself the green light to indulge your quirkiest, most random desires, if that's what your relationship is calling for.
While sexual communication and boundaries are always important, sex itself is allowed to be silly and imperfect. It's okay to learn how to use toys together, and to make mistakes along the way. Laughing and having fun can be just as sexy as elegantly making love beneath satin sheets with perfectly coiffed hair and a perfectly-positioned sex toy.
Check In With Your Partner
So you've successfully used a sex toy in your relationship. Congratulations! Hopefully, you're raring to go for a second round. But, before you jump back into bed with your new favourite toy, it's important to take a moment to ask your partner how they feel to make sure you're both on the same page. Did they enjoy it too? Will they be willing to try it again? While you may think you know exactly what's on their mind based on their immediate reaction during sex, you'll often get a better and more honest answer if you talk about things when the cuffs are off.
If at First You Don't Succeed…
So maybe your first introduction was a smashing success. Not only have you had endlessly satisfying orgasms, but a new aura of intimacy has also settled into your relationship, and you and your lover are closer than ever before. Congratulations! Enjoy your new-found sexual satisfaction, and good luck with exploring all the amazing sex toy options out there.
Or, if you're like many people, using a sex toy for the first time was kind of just ... okay. And that's fine! That doesn't mean sex toys aren't for you. There's no law against trying again, and again until you find your groove. Check out different models, brands and types of toys, do a little more research, and seek out sex-positive online spaces where you can ask any specific questions.
Rather than being a taboo, research shows that more and more people are bringing sex toys into their relationship than ever before, and are reporting high levels of intimate satisfaction. If you've always wanted to try a sex toy but the opportunity never came up, now is your chance to seize the day and discover exactly how they can improve your sex life (and hopefully your romantic life as well).
Why not begin your sex toy journey today...