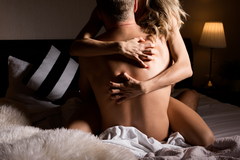 Painful intercourse is common. The causes come in different forms ranging from medical conditions like a pelvic inflammatory disease to ingrown hair, both of which can cause painful problems down there. According to the American College of Obstetrics and Gynecology, every 3 out 4 women will encounter painful sex during their lifetime. You don't have to suffer through sex, and our guide can help you find the right position for you.
A Wet & Wild Ride
A great position is the missionary position, provided it's done with plenty of lube.
Put a towel down and generously apply an edible lube all over you and your lover, this makes for a slippery and exciting sensation for all of your parts, not just your genitals. Coat your chests and legs with lube and ask your partner to sit with their knees bent. Face your lover and carefully slide down until you're ready to go deeper and faster.
Scissors
This position can be done from behind or face to face. If you're looking at your partner, guide the penis or toy inside slowly working up to a preferred depth and intensity that feels good to you. From behind you can scissor your legs between your lovers' legs for more intensity and control.
Converted Missionary Position
Assume the traditional missionary position where you and your partner face one another. Place a pillow between your lower back and your butt. Move your body until you feel the fervor of lust take over and proceed with your lovemaking. This sexual position works because it elevates your hips and if you use lube, it's a great defense when you're coping with vaginal dryness and discomfort.
The Double Delight
The cause of your discomfort may impact whether this position is helpful, but clitoral stimulation produces natural lubrication and can aid in producing the euphoric orgasms you're looking for.
You'll lay on your back with a pillow under your hips. Spread your legs into a 'V' shape with the soles of your feet on the floor. Your partner bends on their knees with your legs on top.
Once in position, break out your vibrator or rely on your hands for twice the elation. As you're getting closer to getting off ask your lover to enter you at your pace.
Woman on Top
Bust out your inner minx and climb on top of your partner. This position gives you a lot of control when it comes to pacing and depth of the penis or toy. Tease yourself until you find what gets you off. There's no wrong way to make love.
The Leg Hug
This position can be done standing or with you on a table or against a wall. Wrap your legs around your partners' hips, insert the penis or toy slowly and gradually build up a rhythm.
If this position is still uncomfortable, try putting a pillow behind your back and underneath you. The elevated pelvis will fill with blood quicker. This position is ideal to use with a vibrator. Clitoral and vaginal orgasms are a wonderful mix.
Crossed-Leg
Ask your partner with the penis or toy to sit with their legs crossed and gently climb on. Make sure to use a lubricant. Sit on your partner with your legs wrapped around their back. Begin by swaying back and forth letting the excitement build between you. This position is excellent for vaginal dryness because it doesn't create as much friction and you control the depth of penetration.
Dedicated Oral Sessions
Painful sex might be an indicator to refrain from penetrative sex for a while. This doesn't mean you need to abstain from pleasure. Don't be afraid to experiment with oral positions. Use toys to help build arousal, invest in an edible lube and be willing to get messy.