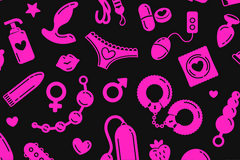 The mention of sex toys evokes different thoughts and feelings in different people. For a growing number of people, it brings up thoughts of kinky pleasure, as it should. Your sex life factors greatly into your overall quality of life, and sex toys can take your sex life to the next level, if you're willing to experiment.


Even though sex toys can improve your sex life, you should regard and use them with the same care we do for other tools.
Stay Away From Sex Toys That Can Get Lost Inside You
Safe sex toys come with safety features. Butt muscles clench reflexively, so manufacturers who have anal safety in mind design butt play toys that won't disappear up the butt when muscles clench. Buy sex toys that integrate safety into their design to avoid an embarrassing and potentially painful visit to the emergency room. Safety features include a flared base or wide handle to prevent the toys from lodging up the anus or vagina.
Avoid Sex Toys Made from Cheap Rubber or Polyvinyl Chloride
Some manufacturers market cheap sex toys like bullet vibrators and cock rings meant for single use as novelty items. Many sex toys contain cheap polyvinyl chloride (PVC) or jelly rubber. Manufacturers don't list all the raw materials in their product descriptions, so it's hard to ascertain whether their products are safe to use.

Some studies have found phthalates, a chemical that increases the flexibility of plastics, in sex toys made from rubber jelly or PVC. Phthalates are toxic and can leak into the body, where they can disrupt hormonal balance and harm reproductive function. Some charity and research organizations have linked the chemical with breast cancer and asthma respectively. In fact, the US has banned children's toys containing some phthalate variants after the US Environmental Protection Agency designated them as toxic.

Before you make an order for a sex toy, find out what materials the manufacturer used to make it. Make sure the material isn't porous, meaning microorganisms like fungi, viruses and bacteria can't penetrate it. It's easy to sanitize sex toys made from non-porous material. With these toys, you can worry less about STDs and yeast infections because they're not likely to provide an environment for microorganisms to flourish.

The jelly toys mentioned in the previous section are especially problematic because they're highly porous and hard to sanitize. In contrast, using sex toys that are easy to sanitize helps to prevent transmission of STDs like HIV and herpes. If a manufacturer or retailer fails to clearly indicate the materials used to make a sex toy, steer clear of their products.
Give preference to materials like hard plastics (like ABS plastic, silicone, metal, and glass. Alternatively, you can consider products made from thermoplastic rubber (TPR) or thermoplastic elastomer (TPE). Just note that while these plastics don't contain phthalates, they are porous.
A Look at the Safety of Different Sex Toy Materials
1. Silicone Sex Toys
Silicone is a soft non-porous material, although it can also be firm depending on its formulation. It has three main advantages: you can sterilize silicone toys by boiling them (provided they don't have a motor), the material transmits vibrations quietly, and it effectively holds body temperature. With proper care and use, sex toys made from silicone can last a lifetime.

Beware that some companies claim that they use silicone to make their toys when they, in fact, use a blend of thermoplastic rubber (TPR) and elastomer. These materials are slightly porous, although considerably less so that typically PVC or jelly-based products. So, while TPR and elastomer toys are indeed safer than many other toys in the market, remember that you cannot completely sterilize them.

The best way to make sure that your sex toys are made from silicone is to buy them from established, trustworthy manufacturers who are known for making high-quality and safe products.
2. ABS (Hard Plastic) Sex Toys
ABS is hard non-porous plastic that some manufacturers use to make mid-range to high-end sex toys. This material is smooth and easy to clean, although the lower quality toys in this category have seams. On the downside, ABS plastic transfers vibrations a bit noisily. But this is a minor issue for people who like the intensity with which the material vibrates. Furthermore, a little buzzing is a small price to pay for these safe and often inexpensive sex toys.
3. Glass Sex Toys
Glass is smooth, hard, hefty and looks good. Sex toys manufacturers use it to make amazing products that effectively hold body temperature and are easy to clean. For extra pleasure, you can vary the temperature of these toys by dipping them in warm or cool water. Just avoid extremely hot or cold temperatures that can damage the glass and hurt delicate tissues. Glass sex toy manufacturers typically use soda lime or Pyrex (borosilicate), both of which are body-safe materials.
4. Metal Sex Toys
Like glass, metal sex toys are smooth, hard, and hefty. They are great for temperature play and are easy to clean. Most metal sex toy manufacturers use aluminum or stainless steel. Some luxury metal toys are made of silver and gold.
5. Wood and Stone Sex Toys
A few manufacturers use other non-porous materials such as specially treated wood and even stone to make their sex toys. In addition to being body-safe, these toys can be beautiful.
How to Tell Whether the Material in Your Sex Toys Are Safe
Check for a greasy residue or unusual "shower curtain" smell. This smell is different from the factory smell that is present when you unwrap products made from real silicone. Note that, after airing out, silicone becomes odorless. A stinky toy is probably unsafe.

Many high-quality and safe products are available at reasonable prices. However, a ridiculously low price is a sign that the sex toy manufacturer may have cut some corners when making the products. Unethical sex toy makers use cheap materials that aren't body-safe.

Ethical manufacturers who prioritize customer safety don't hide their identity; they stand by their products. Give preference to sex toy manufacturers that have an established presence in stores and online. Ascertain the quality of their products by reading independent product reviews. Find out if the manufacturer's customer support is prompt and helpful.

Hold retailers of sex toys to the same high standard as you do for manufacturers. Established retailers who offer prompt and helpful customer support are the most likely to sell high-quality sex toys that are body-safe.
Cleaning Your Sex Toys Before and After Use
In addition to buying sex toys made from body-safe materials, you need to clean the toys properly and regularly to ensure they are safe and last long. Use mild, unscented dishwashing or hand soap to avoid interfering with your vagina's pH balance.

Avoid boiling porous toys because extreme heat can damage them. Likewise, don't submerge toys that use motors to vibrate unless the product is waterproof. Instead, wipe it down with a damp cloth dipped in soapy water. Do the same for toys made of soda-lime glass, which is sensitive to temperature.

You can clean a silicone, borosilicate glass, or metal sex toy by wiping them with a damp cloth. These toys don't include a motor for vibration so, for added sterilization, you can soak them in boiling water for about five minutes to disinfect them. The only toys that you can safely bleach are stainless steel toys and borosilicate glass. Bleach them in a solution of one part bleach and 10 parts water. Soak the toy for 10–15 minutes and rinse it thoroughly to prevent contact between bleach and your vagina.

As to how often you should clean them, doing so immediately after use will usually get the job done. However, the ideal way to clean your toys is before and after use.
Bottom Line
Your sexual pleasure is your right and responsibility. Sex toys can be a huge part of it. If this is the case for you, reading this article to educate yourself on the safety of sex toys means you'll be having fun for a long time because you take good care of yourself. Here are the key takeaways.

Know your toys. Find out whether the sex toy you're considering is made of porous or non-porous materials. Porous materials include jelly rubber, PVC, TPE, and TRE; non-porous materials include ABS plastic, glass, metal, treated wood, and ceramic.
Buy from trusted manufacturers and retailers who concern themselves with the safety of their customers. Learn about manufacturers by visiting their website or store and read independent product reviews.

Don't share sex toys. If you must, do so with care. Always cover the sex toy with a condom when you don't know the sexual health status of your partner. Wash your sex toys to make sure they are safe and last long. At minimum, clean your toys with soap and water after every use. For added safety, you can sterilize non-porous toys by soaking them in boiling water.